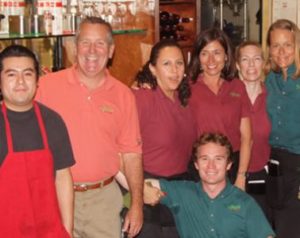 You know the old saying, "A chamber is only as good as its members." This month we are spotlighting local Aliso Viejo Italian restaurant, Cosmo's Italian Kitchen. We have an incredible community and thanks to business owners like Dick Fisher of Cosmo's, we also have some incredible food here in Aliso Viejo. We chatted with our chamber member and Orange County resident, Fisher about the restaurant.
Fisher opened Cosmo's here in Aliso in 1998. After nearly 20 years, the restaurant is still family-owned and operating as one of the oldest favorites of the city. Cosmo's prides itself on made-from-scratch dishes that are traditional and hearty. Fisher has enjoyed great success. He opened a second location in 2002.
The restaurant has a commitment to giving back in our community. Cosmo's holds fundraisers every Tuesday in the restaurant that benefit local nonprofits and different charity organizations. With October being breast cancer awareness month, the restaurant donated 10% of all sales to breast cancer awareness.
Fisher is passionate about people and coming together to support each other as a community. He has seen the wonderful organizations that have become a part of the city and the chamber over the years, and he is excited to continue to be a pillar of the community. He opened a restaurant because of the personal aspect of the service industry. He wanted to become an integral part of a great community and curate relationships with locals. The restaurant is a family-style environment and hosts many community events.
He chose Aliso Viejo as the location of his first restaurant because of the tight-knit community. As a long-time member of the Aliso Viejo chamber, Fisher values the importance of a city that supports its citizens in business and life. He prides himself on being a part of the supportive environment that welcomes small businesses and supports the financial well-being of the community.
We know the food at Cosmo's Italian Kitchen is absolutely delicious, but don't take our word for it! Check out their website for specials and menus, and if you know of an organization that would like to hold a fundraiser, Fisher is always willing to talk! Contact him at (714) 308 8216.
Learn about another chamber member of the month here.