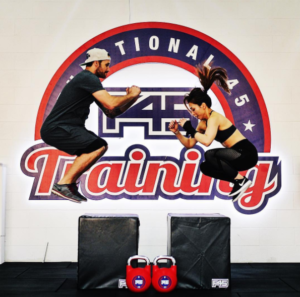 We love welcoming new members to the Aliso Viejo Chamber, and we love meeting business owners who are discovering Aliso Viejo for the first time.
Many of you know that the KnotStop recently closed their location in the Town Center. The business that is moving into that space is also the newest member of the Chamber – F45 Training! F45 is a new fitness concept that started in Australia and is now catching on in the U.S. The name stands for 45 minutes of functional training. It's high-intensity interval training (HIIT) that's designed to help you gain strength and burn fat. F45 has been billed as the world's fastest-growing functional training network.
The studio's owner, Philip Pane, is Australian, but he has called Southern California home for the last 23 years. He has more than 30 years in the fitness space as a trainer and gym operator. And now he is feverishly working on the infrastructure of the latest F45 location!
F45 is unique because participants are always active! You burn calories and fat and build lean muscle almost every second of the 45-minute workouts, which are either cardio-based or resistance training-based and feature a mix of high-intensity interval training (HIIT), circuit training, and functional training. Every day is different at F45 and the workouts are designed to be fun! (There's even a live DJ on Saturdays.)
Want to try this new fitness concept for yourself?
Philip is offering a series of FREE classes, just for Aliso Viejo residents.
Starting this Saturday, October 21st, join other Aliso Viejo locals for outdoor sweat sessions F45-style. The free classes will all be held at the amphitheater in the Town Center, right between the fountain and Grand Park. Classes are absolutely FREE and will be held October 21st, November 4th, and 18th. And at the end of November, the F45 studio will be for its grand opening!
Registration for the free classes also includes a VIP pass for a free two-week membership once the studio opens. You'll be among the first to get to check out F45 first hand for exclusive calorie-torching classes.
Visit the site to register to attend tomorrow's class (or either of the other two) and sign up for your two-week free trial.
Then, call Philip at 949-484-4008 to let him know which free class you will attend and make sure you are on the list!
And, please help us give Philip and F45 a warm welcome to Aliso Viejo, and to the Chamber!