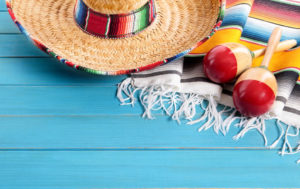 We all know what incredible culture our great community has.  For the next month, starting on September 15th – we will be celebrating National Hispanic Heritage Month.   The month is meant to recognize and celebrate Hispanic and Latin American contributions to our heritage and culture.  As you most likely know, our city's name is Spanish!  Aliso Viejo means old Alder or old sycamore, depending on the translation.
Here are some ways you can celebrate National Hispanic Heritage Month in Aliso Viejo:
Indulge in Local Latin Flavors
We're lucky enough to have some incredible Latin food here in Aliso Viejo and across Southern California.  But you don't have to dine out, if you're looking to add some international flavors, you can create some amazing meals at home.  Want to try something different?  Check out these great Latin recipes check out these incredible dishes from Recipe4Living.com.
See Latin Music at Soka
Before you sit down to that authentic homemade Latin cuisine, how about some Latin music? Saturday, September 23, Gilbert Castellanos Latin Jazz Ensemble will be performing at the Soka performing arts center.  Castellanos has won multiple awards for his amazing trumpet-playing including Artist of the Year and Best Jazz Album. The ensemble is Gilbert Castellanos on trumpet, Justo Almario on alto sax and flute, Adam Schroeder on baritone sax, Tommy Arcs on congas, Mike Holguin on drums and timbales, and Irving Flores on piano. The show starts at 3 pm and you can get your tickets HERE!
Learn Spanish
You can celebrate for just the month, or you can influence the rest of your life by turning your love for a Latin inspired lifestyle into a new language.  There are many international language schools here in Aliso Viejo!  Learning another language is a great way to open lines of communication with the Hispanic residents and culture here in Southern California.
Salsa and Tango
Of course, there's nothing like moving your feet and body to the sounds of Latin music.  You and a loved one or friend can take dance lessons and learn the moves of Salsa and the Tango.  After that, join one of the MeetUp groups in Orange County and dance the night away.
For more great insight and upcoming events here in Aliso Viejo, follow us on social media!