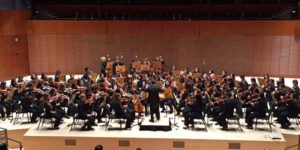 The new year has begun and we can't wait to participate in all of the wonderful upcoming events.  Come together with family and friends for these great community events!
Annual Winter Pet and Vet Clinic
Saturday, January 13, 9 a.m. to 11 a.m. at the Aliso Viejo Center, 31 Santa Barbara.
Get your furry friend in tip-top shape this year with low-cost vaccinations and veterinary services at the annual pet clinic this month.  There will be a multitude of services available including microchipping, and licensing.
Aliso Viejo Country Club New Member Celebration
Thursday, January 11th 5:30 pm
Members of the Aliso Viejo Country Club welcome their newest members with this celebration on January 11th.  The night is a great opportunity to get to know other members and learn about life at the country club.
Aliso Niguel Orchestra Solo and Ensemble Concert
January 12, 2018 at 7:30 p.m
The Aliso Niguel Orchestra performs their critically acclaimed ensemble this month at Soka University.  Experience the excellent sounds of our very own orchestra.  Come together with the community for an incredible night of music.  
Monet's River Seine at Pinot's Palette
Sunday, January 14
Tap into your inner artist this year at Pinot's Palette.  There are many great options this month and one, in particular, that will be hosted on January 14th inspired by the famous artist, Claude Monet.  Join other Aliso Viejo residents for a night of wine and paint! There will be alcohol served so you must be 21 to attend.  This event is perfect for a night out!
If you have an event you'd like us include, let us know!