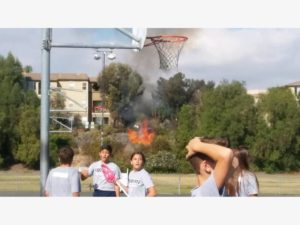 If you were out on Wednesday, December 20, around lunchtime, there's no doubt you saw the smoke or heard the sirens of our Orange County firefighters.  Fire crews made quick work of a small brush fire, which burned about a ¼ acre near Don Avila Middle School and the Aliz apartments.  It's the very last thing on our minds this holiday season, but this fire serves as a reminder that emergencies can strike at any time. We love our community, and all of its members, so we've put together a simple guide to best prepare for any unexpected fire emergency.
Have an Emergency Plan
Get your family together and make an evacuation plan for any emergency.  Having a plan will get everyone on the same page, and it will ease your tension if an emergency occurs.  Plan out the best exits from your home and a meeting spot if necessary.  If you have a big family with grown kids, create a phone tree and a buddy system, so no one is alone.  Plan what you will do if you can't return home, like staying with a designated family member or friend.  Make sure this plan is clear to everyone.  Thinking about an emergency is never fun, but preparing and planning ahead is the smartest decision for you and your family.  
Create an Emergency Kit
Being caught off guard is the last thing you want, but sometimes it can't be avoided.  Whether it's a fire or an earthquake, having an emergency kit will save you time, and put your mind at ease.  The kit should include water, a first aid kit, and some hygiene and nonperishable food items. Research a typical emergency kit for all occasions and add anything you think is necessary.  
Stay Informed
Stay up to date on how local authorities will advise the community when an evacuation is necessary and be in communication with your neighbors when something arrises.  There are many great sites that give you updates if an emergency is inevitable.  We suggest using Alert OC for here in Orange County.
This time of year is about family, friends, and good times!  Prepare for the unexpected, so you don't encounter any surprises.  All of us at the Aliso Viejo Chamber wish you a wonderful holiday.