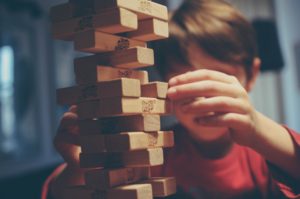 The holiday season is a wonderful time, the family is together, and everyone has those warm and fuzzy feelings inside.  For parents, the time seems to fly by.  For the children, unfortunately, time doesn't go quite as fast, and the words "I'm bored" are sure to be uttered at least a few times.  We want you to enjoy this time with the family and spend some creative time with the kids.  Here are a few ways to keep the kids busy over the break.
Let them Decorate their rooms for Christmas
We all love decorating the common spaces for the holidays together, but some of those brilliant decorating ideas from the kids may be better suited for their rooms.  Get out the crafts and let the kids express their creativity by decorating their rooms their way.  They can create paper chains, santa's sleigh, paper christmas trees and more!
Make DIY presents
Nothing warms your heart more than when the kids get into the holiday giving spirit.  Get them excited to give gifts by finding some awesome DIY gifts for family and friends.  Look through Pinterest and other DIY goldmines online to find the perfect easy gifts for the kids to make.  The craft room will be busy this break!
Go Christmas Camping
We are lucky enough to have amazing weather over the holidays here in Aliso Viejo.  Use this to your advantage and let the kids feel like they're out in the wilderness by setting up a "camping trip" to the backyard.  Set up a tent, make some popcorn and s'mores and don't forget the walkie talkies!
Include them in your Daily Plans
There are awesome establishments here in Aliso Viejo like the Renaissance ClubSport that allow you to bring the kids with you.  They can enjoy the Kids World, while you enjoy your workout! The kids will have so much fun that the time will fly by.  When you make plans to do the grocery shopping or make that special holiday pie, let the little ones feel like they've contributed by allowing them to measure out the ingredients.   Sometimes, having them around as little helpers is just as much fun for them as it is helpful for you!
Follow us on Facebook to keep up with Aliso Viejo tips and events!