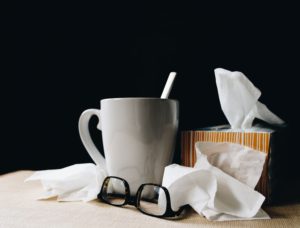 Every year around this time there seems to be a spike in people getting the flu. This year though, it's especially widespread and seems to hit harder than usual. You're not imagining it! According to The Times, the strain of influenza this year is unusually active and widespread. It's not just Aliso Viejo that's been hit with the flu, the whole county seems to have the sniffles.
Here are a few ways to keep the kiddos and yourself healthy and hopefully avoid the flu this year.
Wash Hands Frequently
This is the oldest and truest way to make an effort to avoid catching the flu. If you have little ones, implement a hand washing system that will help them remember to wash. Washing hands frequently will help to avoid bacteria from both inside and outside the home. A place where the flu seems especially contagious is the office, a good rule of thumb is to wash your hands after you enter both the bathroom and the kitchen.
Recognize the Symptoms
One of the reasons the flu gets spread so easily is because symptoms aren't recognized and the virus has a chance to spread. It's important to know the symptoms and rest until the symptoms have gone away. Symptoms of the flu are; fatigue, sore throat, cough, runny nose, headaches or muscle aches. If you have one or all of these symptoms, you should rest and take care of yourself.
Stay Hydrated
Another tried and true way to help avoid illness of any kind is to stay hydrated. The daily recommended intake of water is about 64oz for the average adult. This is a good way to stay hydrated all year long, but especially when a nasty flu is going around. Keeping your body hydrated will give your immune system a boost when fighting off any bad infection.
Whether you're trying to keep your office, home, or family influenza-free, take the proper steps and stay healthy this season!
Keep up with the chamber by following us on Facebook!