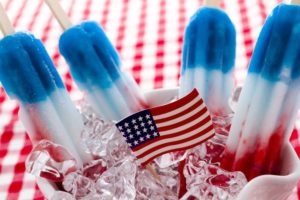 Labor Day weekend marks the unofficial end of summer, but it certainly doesn't feel that way. The heat wave over southern California has definitely hit the people in Aliso Viejo.  Thankfully we have some beautiful trees that offer some welcoming shade!  But the heat doesn't have to put a damper on your three-day weekend!  We've listed a few ways for the whole family to enjoy this hot holiday weekend, even in this heat!
Create an at home water party
Make sure you read the directions, but homemade slip 'n slides are popping up everywhere.  Next time you hit the hardware store add a tarp to your cart and create a safe slide for the kids right in your backyard!  If you're not feeling particularly handy, you could order one off of Amazon.com for about $30.  Either way, it's a fun activity for the kids and will help them stay cool.
Make popsicles
Staying hydrated and eating well during a heatwave is important.  Get the kids hydrated by using fresh fruit or fruit juice to make fun and fruity popsicles!  There are some great recipes online that are easy and fun as a family project. If you're extra daring, homemade ice cream can be a great way to get the family together and is a delicious cold treat!
Protect your skin from the sun
If you do plan on being outside for an extended period of time, make sure most of that time is spent in the shade, and that you're lathering up every hour with sunscreen.  If you attend any outdoor events, bring a small tent or umbrella.  In any case, enjoy this weekend and stay safe! Labor Day is typically spent outside, so bring those brimmed hats, ice waters and sunblock with you.  
Go for a hike
Of course, Aliso Viejo offers a tremendous about of hiking and biking trails.  If you're planning on heading outdoors to enjoy some of the wonderful recreational activities Aliso Viejo has, take lots of water with you.  The whole family can enjoy a nice hike and stay cool by wearing breathable fabrics and of course, keeping those rays at bay with sunblock.  
For upcoming events and more local Aliso Viejo tips, check out our weekly blog posts!