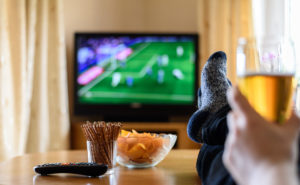 It's official, Super Bowl weekend is in full swing, so let the trash-talking fun and games begin. All around the world, loved ones will come together to watch the New England Patriots take on the Philadelphia Eagles in the largest televised game of the year.
If you're not feeling the crowded bars and restaurants this year, you can always throw a stress-free shindig right at home. These Aliso Viejo restaurants are also AVCC member, and they offer tasty treats for you and your guests to munch on while debating whether that last play really counted as a touchdown.
Throw a Pizza Party with Pieology
Have you tried the Margherita Da Vinci? Pieology has a selection of specialty pizza combinations and salads that will make your taste buds sing. Even if your team doesn't win—knock on wood—at least you'll have comfort food at hand. And don't forget to request their garlic cheese bread and unbelievable cinnamon churro pizza!
Feast with Urban Plates
If you're hosting a small get together with a little more flair, Urban Plates is your go-to for family-style catering. With prices as low as $14, their all-American menu includes Habanera BBQ Ribs, Grassfed Chimichurri Steak and BBQ Turkey Meatloaf. Choose from macaroni and cheese, roasted rosemary potatoes, sesame broccolini and more to compliment your protein. Your mouth is already watering, isn't it?
Keep it Casual with Raising Canes
Wings can turn into a sticky mess in no time, especially when the game heats up and everyone get's excited. You can depend Raising Canes to pamper your party with fresh chicken tenders and sides. And even better, there's no need to worry about stains from slippery wings. They offer tailgate quantities that include up to 100 chicken tenders. Pair them with sides of Texas toast, fries and drinks, and that's all you need to keep your guests happy.
Take a Bite out of Paris Baguette
Go traditional with a sandwich spread, prepared by Paris Baguette. Lay out a selection of sandwiches including favorites like the New York Sandwich Deli and the Turkey Club. While you're there, you can pick up a sweet treat to enjoy while you watch Justin Timberlake hit the stage for the Halftime Show. May we recommend the Chocolate Butter Cake?
However you decide to enjoy the big game, we wish you and your family a fun-filled day! Keep up with the latest events and local Aliso Viejo favorites on our blog