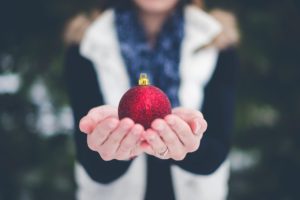 'Tis the season of giving.  When you are a part of such a generous community, it's easy to give back throughout the year, but this time of year is when those who need it are especially grateful for your generosity.  Helping others and being kind goes a long way. Here are a few ways to give back this holiday season in Aliso Viejo.
Donate or Volunteer
There are a few different organizations here in Aliso Viejo that allow you to donate your own gently used items to help out families who are less fortunate.  The Salvation Army has a donation center that accepts anything from clothing, furniture, to appliances and more.  
If you are looking to give back by volunteering your time, a great place to help others gain valuable skills and knowledge is to volunteer at the Aliso Viejo Library.  The Library offers free business courses with volunteer instructors.  If you have a skill you'd like to share, contact the Library!  Another great volunteer opportunity is with Silverado Hospice or the Animal Rescue.  Check out all the volunteer opportunities in Aliso Viejo HERE.
Give to a Food Drive
Coast Hills Church hosts a food pantry every fourth Saturday of the month to help struggling families.  Hunger is a worldwide issue, and it hits home for many here in Orange County.  We are lucky enough to be able to help out families who are struggling to put food on the table this holiday season.  Join the food drive on Saturday, November 25th from 8 am to 10 am.  The food pantry will be held at either Lowell Elementary School or  Madison Elementary school.  For further detail, visit the Coast Hills Church website.
All is Bright Holiday Celebration
We are so excited for Aliso Viejo's annual All is Bright Holiday Celebration.  The event will be held on November 30th in the town center.  The festivities start at 5:30 and will include train rides, ornament making, Christmas caroling, tree lighting, and more! Watch as we light our 22-foot Christmas tree and visit with Santa Claus.  Take this wonderful opportunity to give back by bringing an unwrapped toy or toys to the event for the "Spark of Love Toy Drive."  These will be given to underserved children of our community.
Giving back feels good! We wish you all a happy holiday season!  For local events and news, see our blog.